BLUE CEDAR FALLS #3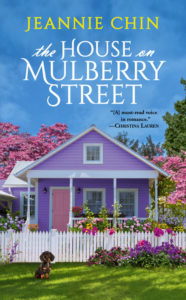 For these two small-town best friends, sharing a kiss might be the worst mistake of their lives—or the best thing that's ever happened to them.
Between helping at her family's inn and teaching painting, Elizabeth Wu has put her dream of being an artist on the back burner. But her plan to launch an arts festival will boost the local Blue Cedar Falls arts scene and give her a showcase for her own work. If only she can get the town council on board. At least she can rely on her dependable best friend Graham to support her. Except lately, he hasn't been acting like his old self, and she has no idea why.
Graham Lewis has been secretly in love with Elizabeth forever, but it's past time that he faces the cold, hard truth: vivacious, amazing Elizabeth will never see him as anything but a platonic pal. He's going to help her get the festival off the ground, but after that he needs to forget his one-sided crush. Until one impulsive kiss changes everything. Can they really rebuild their entire relationship—and the festival—from the ground up? Or will it all come crashing down?
Available March 7, 2023 from Forever / Grand Central Publishing